ALSO STREAMING ON OUR APP +
LIVESTREAM WILL REFRESH AUTOMATICALLY. IF NOT, PLEASE REFRESH YOUR BROWSER...
WELCOME to The Bridge Church!
We are so glad you came by for a visit! You will find the Bridge Church to be a warm and friendly, inviting atmosphere where you and your family are welcomed. We invite you to join us in celebration of worship, Christian fellowship, study and service. When you become a part of our exciting journey of faith, you will be encouraged, challenged, and renewed in spirit! As you simply come, our prayer is that you will be encouraged in your faith and find a sense of belonging here at The Bridge Church. We look forward to an opportunity to meet you face to face.

Blessings, Pastor Dan + Patience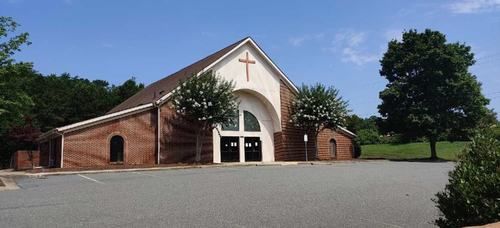 IN-PERSON CHURCH SERVICE: 9:30 AM or 11 AM- We are resuming our services in the Sanctuary at The Bridge Church, 2940 Charlotte Hwy. in Mooresville with social distancing and masks in place. SEATING IS AT 9:15 AM AND 10:45 AM IF AT ALL POSSIBLE! There will be one way in and one way out. Please leave 2 chairs on a row between any two family groups. For the safety of others and to adhere to current regulations- please remain at least 6 feet apart from others not in your family group and refrain from walking around, so as to be respectful of others concerns. Masks will be required indoors and will be available as well as automatic hand sanitizer. Bring your own coffee/drinks, but please be sure to take everything with you! All hallways, classrooms, kitchen, and modular building will be closed. Cleaning will take place following each service! Secret Sister gifts may be left in the designated spot on the table in foyer. Giving may be done online through website or app or put in the lockboxes in Sanctuary. We appreciate your continued faithfulness!

***Thank you for your respect of other's boundaries and your consideration during this unprecedented time.

LIVESTREAM: 9:30 AM- Watch live on Facebook, Youtube, or now- directly through our app and website! Sermons are available on all of these social media outlets for your viewing at any time.

CHILDREN'S CHURCH VIDEOS: These high energy videos are uploaded to our Facebook Page by 8 AM every Sunday morning for your children of all ages to enjoy and hear the Word of God preached at their level in a creative, fun, and engaging way. Family Devotions and "Take-Home" papers are also uploaded to our Facebook page for you to print if you wish, or simply go over with your children to enhance the weekly lesson.
WE ARE BACK in the Sanctuary!


"These people love like a true family! God is definitely in this place."
-Shane B.
"Down to earth friendly people and they welcome you in with open arms! Love the pastor, he is such a great person!!"
-Tammy M.
"This is the most diverse church I've been to! They accept you no matter what- it's like a family. I love these people. I recommend this church to anyone who is looking for a church but doesn't feel as though they fit in at other churches."
-Brittany D.
"Great church, youth ministry, wonderful Pastor. Very caring church. Great ministry. I love my church."
-Jo P.
"The Bridge is the most loving bunch of people you'll ever find. It's not a church, it's a family. People who greet you at the door with a smile and a welcoming handshake. You feel the Love of the Lord through music and praise. Come join the Celebration of our Savior, Jesus Christ!"
-Patricia L.
"It's a very friendly atmosphere!"
-Julisa C.
"Pastor Dan is awesome!"

-Terri W.
"No one is a stranger. Friendly, loving & caring people. Services are from the Bible. Weekly, I am happy I showed up to be fed the words of the Bible. There is a peace in our church. There is so much love shared in our congregation & everyone is welcome. Our doors are opened to anyone. Come as you are! Come worship with us."

-Phyliss G.
"I love the Bridge Church Family, they have always shown our family love and care. Come join us for one of our Services- you will be welcomed with open arms and the Spirit of God."

-Jean W.
"This church is beautiful, full of amazing people. The Pastor is Great and his sermons even better. I'm always leaving service having learned something or obtained some knowledge of God's Word each time. My children love coming here and I'm thankful they reach to all ages."

-Tiffany C.
"The Bridge Church is full of warm friendly people who shine with the love of God within them! It is like being in the arms of Jesus every Sunday that I go to church...Bless everyone!"

-Peri S.
"A Church is made up by the people that are involved with others... These are the most welcoming people I have the pleasure of meeting. We study and share the word of our Lord as written in the Bible. There are so many places to fit in and share- it truly is a great, big, loving family... a blessing from God."

-Jean C.
"A warm atmosphere and you can feel the Holy Spirit in the Church!!"

-Joseph E.
Follow us on social media.